The Heath Robinson Connection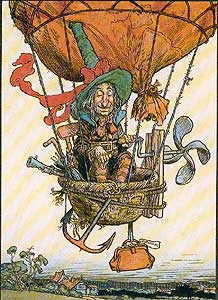 The English book illustrator and comic artist William Heath Robinson (May 31, 1872- 1944) was closely linked to the Brinsmead family. For those who do not know his works, he is famous for his cartoons depicting fantastic and complex contraptions to achieve the simplest tasks. He has the distinction of becoming an adjective in his own right. "A bit Heath Robinson" is a common way of describing a convoluted invention or project. In fact the first efforts to build a decoding machine (the predecessor to the Enigma Project) resulted in a machine called Heath Robinson.
William Heath Robinson's parents were Thomas Robinson (1838-1902) and Eliza Heath (1849-1921). Thomas Robinson was an illustrator and engraver and worked for the Illustrated London News.
The most direct link is through his daughter Joan, who married Denis Brinsmead (1907-1995). Denis was the son of Horace George Brinsmead and a grandson of John Brinsmead the piano manufacturer.
William Heath Robinson is also related to the Brinsmeads through his marriage, in 1903 to Josephine Latey, the daughter of John Latey (1842-1902). John Latey was an assistant editor of the Illustrated London News. He was also a close colleague of Will's father Thomas Robinson. His father John Lash Latey came from North Devon and made his way in London at about the same time as John Brinsmead, the piano manufacturer. Josephine had a brother, William Latey who married Anne Emily Brinsmead, the daughter of Horace George Brinsmead. Thus, Anne Emily Latey (nee Brinsmead) was William Heath Robinson's sister-in-law. Anne Emily Brinsmead was the daughter of Horace George Brinsmead and the grand-daughter of John Brinsmead.
A William Heath Robinson trust has been established to preserve and create a museum for his works. He lived in Pinner in North London between 1908 and 1918 (between 1908 and 1913 at Hatch End and between 1913 and 1918 at Moy Lodge, 75 Moss Lane). The William Heath Robinson trust has entered into a partnership with the Pinner Association to promote the restoration of West House, Pinner to be used as a museum for his work. Click here for details:
For more information on Heath Robinson, check out these sites: