Bishop's Hull in Somerset
The earliest traces of the Brinsmead family come from Somerset in England's West Country. The family shows up in several villages in the Taunton Dean area, most notably in Bishop's Hull, just outside the town of Taunton. Bishop's Hull was once known by its Latin equivalent; Hulle Episcopi. It was then owned by the Bishop of Winchester.
The Brinsmead family thrived in Bishop's Hull in the 1500's and 1600's. However, after that they appear to have died out. We know one or more moved to the new colonies in the Americas. Several others moved to London. One suggestion was that this occured after the family sold land that was used to build the new Manor House in Bishop's Hull. Yet other family members moved into the surrounding villages including into the adjacent County of Devon.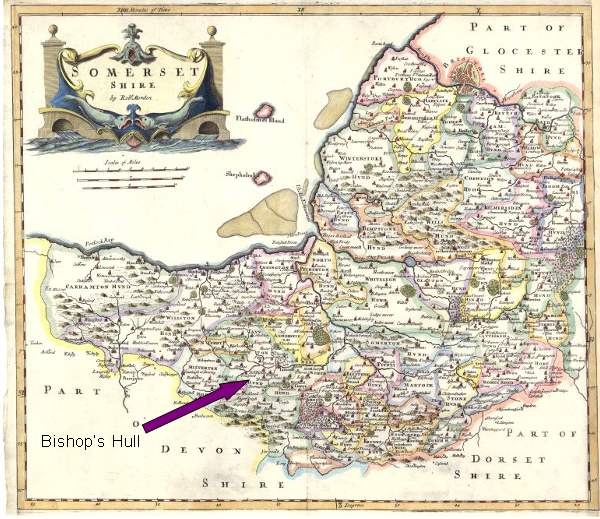 Where to find Bishop's Hull in Somerset. The map is from 1695.
The Early American Migration
It is fairly clear that two Brinsmeads left Bishop's Hull and sailed for America in about 1630. They are believed to have left on the ship Mary and John, headed for the colony of Massachusetts.
Taunton
Bishop's Hull was just outside the Town of Taunton. At times it appears to have developed the reputation for being the place to go for a night on the town, free of some of the municipal restraints in Taunton itself.
Taunton held one of the monestaries subject to the dissolution. We know of at least one Brinsmead who was affected by this drastic change. William was a Dominican.
An entry recorded in Devon and Cornwall Notes and Queries Vol. 18 1934-35 reads:
25. Dom. William Brymsmede, having a pension of five pounds paid out of the house of Tawnton, died at Teigngrace, 26 March, in the first year of our Queen, viz., of your Majesty aforesaid (1558/9).
While Teigngrace is in Devon, the monastery was apparently in Tawnton, adjacent to Bishop's Hull. This pension was one of the pensions granted upon the dissolution of the monasteries. It was relatively generous and suggests a fairly high standing.
Bishop's Hull Records
We have collected three centuries of records from Bishop's Hull. This includes parish records of births, deaths and marriages, parish chest records and reports of court proceedings. The Mary and John Society commissioned an extensve review of the manorial records, looking for, among other things, any reference to the Brinsmeads. There are several Brinsmead wills that add clarity to the relationships involved. This has built up an extensive picture of the family.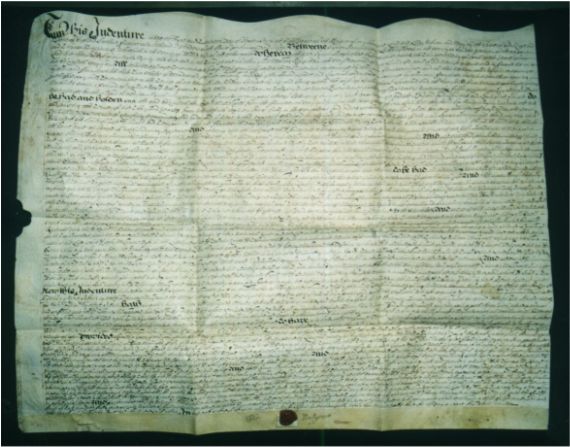 A lease entered into by Simon Brinsmead involving land at Bishop's Hull.
Symon Brinsmead's Will
The will of a Symon Brinsmeade of Hillbishops, Apothocary, dated 20 September, 1654 has survived. We do not yet know if this is the same person that entered into the lease. This transcription is taken from a copy of the will in the Vasser College Library English Manuscript Collection, Poughkeepsie, New York, U.S.A.
It was evidently purchased before the second world war by a member of the faculty and subsequently given to the faculty library. The Somerset material was extracted in September 1993 by Robert Dunning. It is in Bishops Hull, Box 6 marked copy will (made by R. Hoare).
Poor of Hill Bishops 10s; daughter Abigail the tenement lately of Testator's uncle Williams and £50; Son Samuel £350; daughter Mary £300; wife sole executrix to bring up and keep children; brother Richard guardian of Abergail; each child to have portion at 21 and their portion to be jointly shared if one die. If all died then £300 to wife and £400 as follows: £100 to brother William, £100 to brother Richard, £100 to brother Samuel, £100 to sister Joan. If wife maries with overseers consent, best portions to be arranged for children, widow has residue. Brothers and friends Abraham Cowley, Thomas Brumfield and William Brinsmead and Samuel Brinsmead overseers each 10s. Witness Samuel, Richard and William Brinsmead.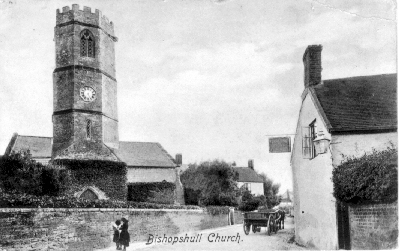 Bishop's Hull Church at the turn of the last century.
Bishop's Hull Today
Bishop's Hull today is a very pleasant and mostly still rural village, although it is very close to being a suburb of Taunton. It has a Manor house from the 1600's and a quite unique looking church.