Brinsmeads in Ireland
We had long been fascinated by some isolated references to the Brinsmead name in Ireland. A family named Brimsmead lived in the Northern part of Tipperary. There are references to several wills having been made, but they appear to have been lost. One daughter married into the Cuffe family, as the second wife to Joseph Cuffe, one of the descendents of Viscount Desart. Information on the Cuffe family can be found here. This suggests a connection to Samuel, below, since the Cuffes were from Somerset and leaders amongst Cromwell's invading army. We also know that one (perhaps the last) of that Brimsmead line, was a soldier in the English Army (12th Light Dragoons) in the Napoleonic Wars and, after his discharge, emigrated to Canada. His story is detailed elsewhere.
The other references were 17th century references to a Samuel Brinsmead who died in Dublin leaving a will, and to a Samuel Brinsmead who served as an Alderman and Sheriff in Waterford. A recent trip to Ireland uncovered more about this Samuel who is one and the same person. Whether his offspring led to the Tipperary branch we have yet to discover, although they have no other obvious roots.
Samuel's Roots
Samuel Brinsmead was clearly a descendent of the Bishop's Hull Brinsmeads. Several of them were Apothocaries as was he. We believe him to be the son of Simon, born 1616 in Bishop's Hull, but cannot confirm that fact.
Samuel in Waterford
We do not have any exact record of when, why or how Samuel went to Ireland. However, the timing of his appointment as an Alderman in Waterford, a City on Ireland's South coast, stongly suggests he came with or was at least a hanger on with the New Model Army of Oliver Cromwell. Cromwell invaded Ireland in the 1650's and took over the governance of Waterford. For a time the City's charter was suspended. However, with the acession of King Charles II, local government was gradually restored, and a new Mayor, two Sheriffs and eighteen Aldermen put in place. Samuel was one of those Sheriffs.
English State papers record two activities with which Samuel was involved.
On April 9th, 1661 the Mayor, Thomas Dancer, and the two Sheriffs, Samuel Brinsmead and Samuel Brown issued a certificate reading:
"They certify that George Cawdron, late an inhabitant of Waterford, who is now in prison for considerable debts, was not an extravagant man. He was always modest in apparel, sober in conversation and "a diligent, painful person". He has suffered much bey men of war at sea and by unfaithful servants and factors."
On January 7th, 1662, Samuel Brinsmead, by then just an Alderman, is listed as a subscriber to a flattering address from the Council to the newly restored King and to the Lord-Lieutenant of Ireland. It is probable that there was a certain "cover your backside" aspect to this address, coming from a Council that may have been felt to have decidedly Parliamentarian sentiments. The address read:
"Had not the news of your appointment as Lord-Lieutenant been intercepted by strong rumours commanding our belief, "we who claim a special portion in your Excellency (as being the descendant and sucessor of those honourable progenitors who have, time out of mind been the nobel patrons of this city) should not so long have been breeding our unformed joys and at last bring them forth as children born out of due time. Most nobel Sir, what has been said of sorrow is true of joy. The lesser speak, the greater sink into amazement for either passion are [sic] alike confounded at the greatness of their objects." We look forward to your protection of the Church and of the "Good old Protestant interest in this Kingdon." As attempts have been made to represent us as disloyal, we protest forally our loyalty to the King and yourself."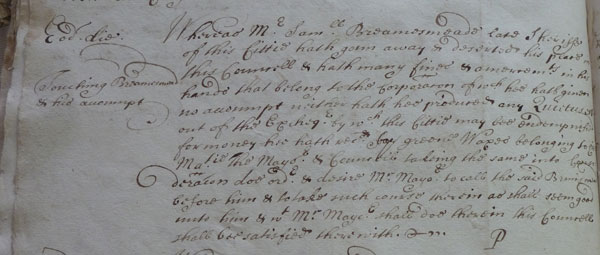 Motion from the Waterford Council to have the Mayor try to recover monies from Samuel Brinsmead who had left town.
Click for larger image.
The minutes of this Council, for most of Samuel's tenure, have not survived. The surviving records begin soon after he left. The circumstaces of his leaving are alluded to in the entry pictured to the left, which reads:
Eodem die. Touching Breamesmead and his accoumpt. Whereas Mr. Samuell Breamesmeade, late sheriffe of this cittie, hath gonn away and deserted his place in this councell, and hath many fines and amercements in his hands that belong to the corporacion, of which hee hath given no accoumpt, neither hath hee produced any quietus est out of the exchequer by which this cittie may bee endempnified for money hee hath received by greene waxes belonging to his majestie; the mayor and councell takeing the dame into consideracion doe order and desire Mr Mayor to call the said Brimsmead before him and to take such course therein as shall seem good unto him, and what Mr Mayor shall doe therein this councell shall be satisfied therewith.
Samuel in Dublin
What we know of Samuel after he left Waterford comes almost entirely from his will which we transcribed in the Dublin Archieves. While clear on most points, a few words were hard to read. The will tells us that Samuel married and that he had three children; two daughters and a son.
In the Name of God Amen. I Samuel Brinsmead of Dublin being sick in body but of perfect sense and memory praised be Almighty God, do make and ordaine this my last will and testament in manner and form following;
Imprimus; I bequeath my soul to God into the hands of God my savior in hope of a full-----of a resurrection and my body to be-----buried in the Parish of St. Katherine's in Thomas Street, Dublin.
Item; --------at Waterford to be worth from Mr. William Ellis and on several bonds for the term of seven years to be disposed of for the good of my children as my executors shall seem meet and expediant and my will is that my house in Waterford be left to the disposal of my friendmr Richard Barrett for him to keep or to dispose of or deliver up to the forty or others as he shall think fit.
Item; whereas I have a flock of cattle and horses and sheep in the hands of Lieutenant Thomas Inman of Irrayhleigh in the County of Kilkenny valued by him the said Inman sixteen pounds stirling for which he the said Lieut Inman was to give twenty eight pounds for eight years and afterwards the said flocks to be his own do by bonds to that purpose may now approved and whereas there is now twenty four pounds due from him the said Inman at may day 1664 for one years rent for the said cattle I do also leave the disposal thereof to my executors for the use and benefit of my childen as aforesaid.
Item; my will is and I do desire that my friend John Dobson and any others that he shall take into his assistance do value and appraise my shop and all the commodities therein the best advantage and then so appraised that Mr Henry Bug--- may have the refusal thereof he giving security to my said executors to pay such sums and sums of money for the same for the use of my children and my said executors shall think meet and convenient.
Item; my will is that all my movable goods of what nature soever in my house or otherwise my shoppe only excepted one half to my eldest daughter Elizabeth Brynsmead besides one cabinet in the hands of Mr. Nathan Palmer and given to her by her late mother and the other half of my said goods I do give and bequeath to my other two children, Henry Brinsmead and Mary Brinsmead to be equally divided between them by my said executors.
Item my will is that all such money as shall be gotten in by my executors on debts owed to me be ordered and disposed of by my said executors towards the defraying and discharging of such debts as I do owe in London to any person and what shall remain as a surplus out of my shopp and stocks and bonds due to me in waterford or elsewhere to be disposed of one half to my daughter Elizabeth and the other half to my son Henry and my daughter Mary Brinsmead as aforesaid. An inventory of all my goods aforesaid being remaining in one of ---- books locked up in my chamber and on my bed and any other inventory remaining in my little table drawer in my said chamber.
Item I give and bequeath unto my mother the now wife of coll Henry spade my father in law as a token of my love my late wife's cabinet wrought in silk as also he white satin stitch work with a dove therein and I do nominate and appoint that my father Col. Henry Slide and Anne his wife and my Hun and friend Coll. C. Shidley Coote to be my executors to see this my will to be fulfilled according to the true intent and meaning thereof and I also nominate and appoint my very loving friends Mr. Nathanial Palmer and Mr. George Gage both of the City of Dublin to be my overseer of this my last will and testament giving each of them twenty shillings apiece and in the absence of my said executors they to act all things that are needful and necessary to be done in or remaining the executor of this my last will and testament in witness whereof I have hereunto set my hand and seal this----th day of may in the year of our lord 1664 Sam Brinsmead.
Signed sealed and delivered and established to be my last will and testament in the presence of Thos. Parson and Mogonder Castell
The reference to "the Forty" is to the survivors of the Cromwellian Army that invaded Waterford and area in the Cromwellian invasion. This clause is said to be a "ladder clause", giving money to a good cause in the hope of buying oneself a ladder into heaven.