Thomas and Agnys Brinsmead
Our Brickwall
Thomas and Agnys Brinsmead lived over 400 years ago. They are the root of our family tree. They are the furthest back we can definitively trace the family, and every known living Brinsmead (not however the US Brinsmades, a few of whom still spell the name Brinsmead) can be traced back to this one couple. They took no photographs and posted no blogs. They have no account on Facebook. This page covers what we know of them from the scant documentary record we have been able to discover.
We know from the St. Giles in the Wood parish register that Thomas Brinsmead died in 1626 and that his wife Agnys died one year later in 1627. We know as well that they had one son, Robert, but we do not know the year of his birth. We have been unable to confirm the date or place of their marriage. The parish registers from that time are not easy to read. We have examined the microfiche copy as well as the original parchment record book. Later, we had the local archivist double check our search but even his expert eye found no earlier entries.
Locals or "from away"?
A crucial question, to which we may never know the answer, is whether Thomas and Agnys were new to the area, or whether they were simply the descendents of earlier Brinsmeads living in the area for whom records are lost in the mysts of time. The question is made more difficult because many of the Great Torrington records were lost is a fire that destroyed the Church on Feburary 15, 1645 during the Civil War. There was another serious fire, and loss of records, said to have occured in 1724. Church records for Great Torrington only exist from 1616 forward, although there is a transcript going back to 1597 for some records.
Family Myths or Received Truth?
There have been a few suggestions that Thomas Brinsmead sailed with Francis Drake against the Spanish Armada. We have tried to follow this up through the extensive records of the navy fleet a well as the supporting civil fleet of the time. So far this has proved a dead end. There is nothing improbable about the story, Bideford and Appledore were close by and at the time were very active ports. The History of Great Torrington describes the requisition of, and damages to, a ship called the Zeraphin that was possible involved in the Armada, although it is not listed in the official records. There is nothing provable - so far - but we live in hope.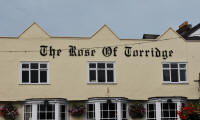 The Rose of Torridge.
A subset of this story is that Thomas was the captain of The Rose of Torridge. There was a Rose of Torridge. However, is biggest claim to fame was that it featured in the 1855 novel centered on the area by Charles Kingsley - "Westward Ho". There is today a hotel with that name in Appledore. Our suspicion is that the story has more to do with the influence of the book, or perhaps the bar, than with historical accuracy, but who knows.
There are trees on the web that suggest a London connection, but with no verifiable source. Certainly there were Brinsmeads in London at the time they would have been born, but no clear birth or marriage records for Thomas and Agnes, or for their son Robert. We do not know Agnys' maiden name.
Thomas' Land Holdings
A foot of finesinvolving Thomas Brinsmead of St. Giles in the Wood.
Click for transcription.
What we do have is two documents contained in the Devon Records Office, signed by Thomas Brinsmead. One is in English, although hard to decipher. It is a lease of land in nearby Buckland Brewer. It identifies Thomas as being from St. Giles in the Wood. It suggests he was a man of some prosperity since the treck to Buckland Brewer in those days, to farm, would be a challenge. The second document is in Latin. Transcriptions for these documents are contained on a seperate page.
A lease document entered into by Thomas Brinsmead of St. Giles in the Wood. Click for transcription
Possible Origins
There were a few Brinsmeads in the North Devon from before 1600. We know this from entries in the mid 16th century tax and muster rolls. It is possible Thomas came from one of those families. It is also possible that he was a member of the Brinsmead family that came from Bishop's Hull in Somerset. Comments made by John Brinsmead, the piano maker, during his life hint at both being true. This might have been direct, or as a result of that branch of the families migration to London and their dispersal from there, perhaps due to the Great Fire, or the black death, both of which led to inhabitants of London returning to the hinterland.
Our research is gradually covering all early Brinsmead sightings, hence this series on "The Ancients". Our hope is if we cannot push back from Thomas and Agnys, pushing forward from some of the earlier records might help us find them "through the back door" so to speak.
Challenges
As anyone familiar with Devon Family History will understand, the early Brinsmead wills, of which several existed, have been destroyed. In a worthy effort to protect records from the perils of war, most Devon wills were collected at Exeter for security. The plan failed since the storage location was itself bombed, destroying a valuable resource. Parish Registers only began, in most cases, in 1538. Those from the first 100 years or so are hard to read and transcriptions are spotty, particularly with a name like Brinsmead which had a variety of spellings, and many more transcription errors. Our hope is to find some record of Thomas and Agnys' marriage or birth, and some information as to where they left in order to settle in St. Giles in the Wood. We have started searching the records of the Rolle Estate, which are mostly un-indexed. However, living in Canada makes it a little hard to nip down to the Devon Records Office. Our efforts continue.