The Brinsmeads in Australia
Probable the largest contingent of Brinsmeads now live in Australia. There is even a town named Brinsmead,in Queensland, named after Horace George Brinsmead (and not, as some think, his nephew Horace Clowes). The Australian lines arose from several migrations. The first left England left before the Australian gold rush, but others may have been attracted by the reports home about gold north of Melbourne. An article from the time, published in the North Devon News, tells something about life for the early emigrants.
During a visit to Australia in 2004 we found out much more about the various Brinsmead migrations. Many thanks, particularly to Max and Pam Brinsmead for their help and hospitality and to Susie Zada of The Geelong Historical Society for her enthusiastic support.  We can now give the definitive answer to why there is a Brinsmead, Australia.
The Brinsmead migrations to Australasia we know of are:
Henry and his wife Betsy Brinsmead, accompanied by Elizabeth and Mary Brinsmead and Thomas and William Hackwill

·         Henry is the son of William Brinsmead and Mary Ireland

·         Betsy is the widow of John Hackwill and the daughter of Thomas Brinsmead and Margery Squire.

William Brinsmead and his wife Ann Brinsmead, cousins who married in Great Torrington in 1839. They appear to have arrived in Australia with children Thomas Ireland, Mary Ann and William.

·         William is the son of William Brinsmead and Mary Ireland

·         Ann is the daughter of Thomas Brinsmead and Margery Squire

Susannah Brinsmead, who married Raymond Seldon in Great Torrington in 1842. we are not sure if they migrated as a family. We do know that their son Raymond died in St. Kilda in 1919.

·         Susannah is the daughter of William Brinsmead and Mary Ireland


Elizabeth Brinsmead, who married Lewis Strivins in 1858.

·         Elizabeth is the daughter of Thomas Brinsmead and Margery Squire 

William Brinsmead of Weare Giffard, Northam and Appledore, Devon, who married Agnes Ross in Victoria in 1862

·         William is the son of William Brinsmead of Weare Giffard and Mary Fowler

John Brinsmead of Exeter who married Catherine Lochead in Victoria in 1853

·         John is the son of Hugh Brinsmead and Mary Ann Rowe

William Brinsmead of Exeter

·         William is the son of Hugh Brinsmead and Mary Ann Rowe

Horace George Brinsmead, a son of John Brinsmead the piano maker moved to Australia for a time but returned to England at the turn of the century. He developed land in what is now Brinsmead, near Cairns, in Queensland.
 
Horace Clowes Brinsmead a son of Edgar William Brinsmead
 
Howard Brinsmead, another son of Edgar William Brinsmead
 
James (Thomas James) and Harriet Brinsmead (nee Pyrke) who ran a well known chemist's shop in St Kilda in Melbourne
 
Victor Brinsmead, who emigrated to Tasmania
 
Frank Hearn Brinsmead, older brother of Victor, who emigrated to New Zealand
 
Lillian Florence Brinsmead, married to a Mr. Roberts 
We hope to add more details shortly. Many thanks to all the Australian Brinsmeads who have provided information. We would welcome any details on the history of these early settlers, including pictures as well as details of their descendants.
1. Henry and Betsy Brinsmead
Betsy and Henry Brinsmead left St. Giles in the Wood in about 1850. They took their children with them, including what we assume are Betsy's two sons Thomas and John Hackwill which we assume are from her earlier marriage to John Hackwill who died in St. Giles.
Letter from Betsy and Henry Brinsmead to the family back home
2. William and Ann Brinsmead
William and Ann Brinsmead proved to be the most prolific of the Brinsmead immigrants to Australia, at least on the male line since they are the source of the largest number of present day Australian Brinsmeads.
William and Ann's Tree - .pdf  (updated Jan 16, 2004)
5. Henry Brinsmead and Betsy Radford
6. John Brinsmead
John Brinsmead appears to be the only Brinsmead who arrived on Australia's shores courtesy of the British Court system. He was convicted of an offence at the Exeter Quarter Sessions on February 28th, 1843 and sentenced to seven years.  He left for Van Dieman's Land (Tasmania) on April 28th, 1843 on the vessel Cressy. That ship set sail for Plymouth, England on April 30th, 1843 and sailed for 112 days, arriving in Hobart on August 20th. Only one of the 296 passengers was lost at sea.  James Molison was the ship's Master and James Lawrence its Surgeon. The convict muster lists him as having a ticket of leave. He is then shown as a Third Class Passenger on the vessel Gilmore, destined for the Hospital in New Norfolk, up river from Hobart.
In 1853, John Brinsmead married Catherine Lochead formerly of Tillicoultry, Clackmannon, Scotland.
 8. Horace George Brinsmead
As a young man of 17, Horace George Brinsmead served as an apprentice on the vessel HAWKESBURY, an 1120 ton ship that sailed from London to Sydney, New South Wales on March 5th, 1871. In later life, he took charge of some of the colonial export business of the John Brinsmead and sons. firm, particularly in Australia. In that capacity he sailed to Australia several times and lived there for several years. One of his daughters recalled playing for the singer Nellie Melba while living in Australia.
Horace Clowes came first to North Queensland around 1910 but eventually settled in Melbourne. A pilot in WW1 , he became the first Controller of Civil Aviation after the war. He fiercely defended Government policy of not allowing Airways to compete with the Railways, thus frustrating the hopes of QANTAS at the time. He had a difficult task controlling not only development of aviation ,but also the daredevil flyers of the era. They were a wild ,unruly lot.
Horace Clowes Brinsmead's Biography

Horace Brinsmead's 1924 Flight around Australia
Victor Brinsmead and his family settled in Hobart, Tasmania in 1913.
Significant Locations for Brinsmead Settlement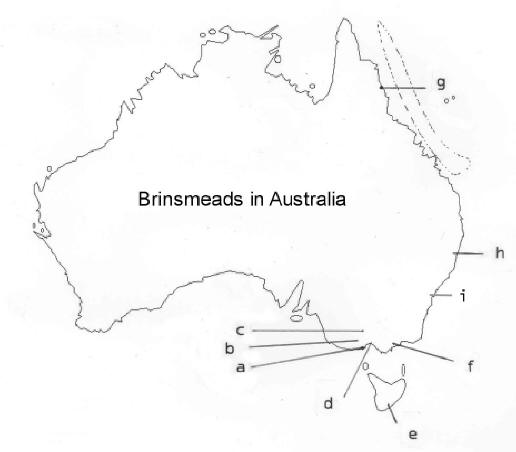 a: Geelong and Leopold (formerly known as Kensington) located by Port Phillip, Victoria. The history of Geelong can be found at http://www.zades.com.au/geelong/ghrc.html
b: Ballarrat, Victoria
c: Bendigo, (until 1891 known as Sandhurst), Victoria. The centre of the gold rush in Victorian times, Bendigo attracted several Brinsmead settlers.
d: Melbourne, Victoria including St. Kilda and Ripponlea, the site of Brinsmead's Pharmacy, a heritage site.
e: Hobart, Tasmania.
f: Morwell and the Latrobe Valley, Victoria
g: Cairns and Brinsmead, Queensland
h: Tweed Heads, New South Wales, home of Brinsmead owned Tropical Fruit World
i: Sydney, New South Wales